Would you like to start composting, but are unable to do so in your own home?
You are in luck! Sustainable Broomfield has created a successful, volunteer-run Compost Club!
We began this program in June and currently have over 60 participants! So far we have diverted over 756 gallons of organic material from the landfill, where it would have decomposed anaerobically and released the potent greenhouse gas, methane, into the atmosphere. Instead, those items decomposed naturally and half of that material has currently been converted into 64 gallons of nutrient-rich compost for use in the Crescent Grange Community Garden.
How the club works: We provide you with a reusable bucket, which you fill with compostable scraps from your kitchen and garden. Whenever your bucket is full, you drop it off at the Broomfield Crescent Grange and take home a clean empty one (this is the process when the weather stays above freezing). We also have volunteers to do bucket exchanges for you if needed. It's that simple!
During the winter (or any time of year that we have freezing temps), we need you to dump your own bucket of scraps into the compost bins at Broomfield Crescent Grange.  Here is the process: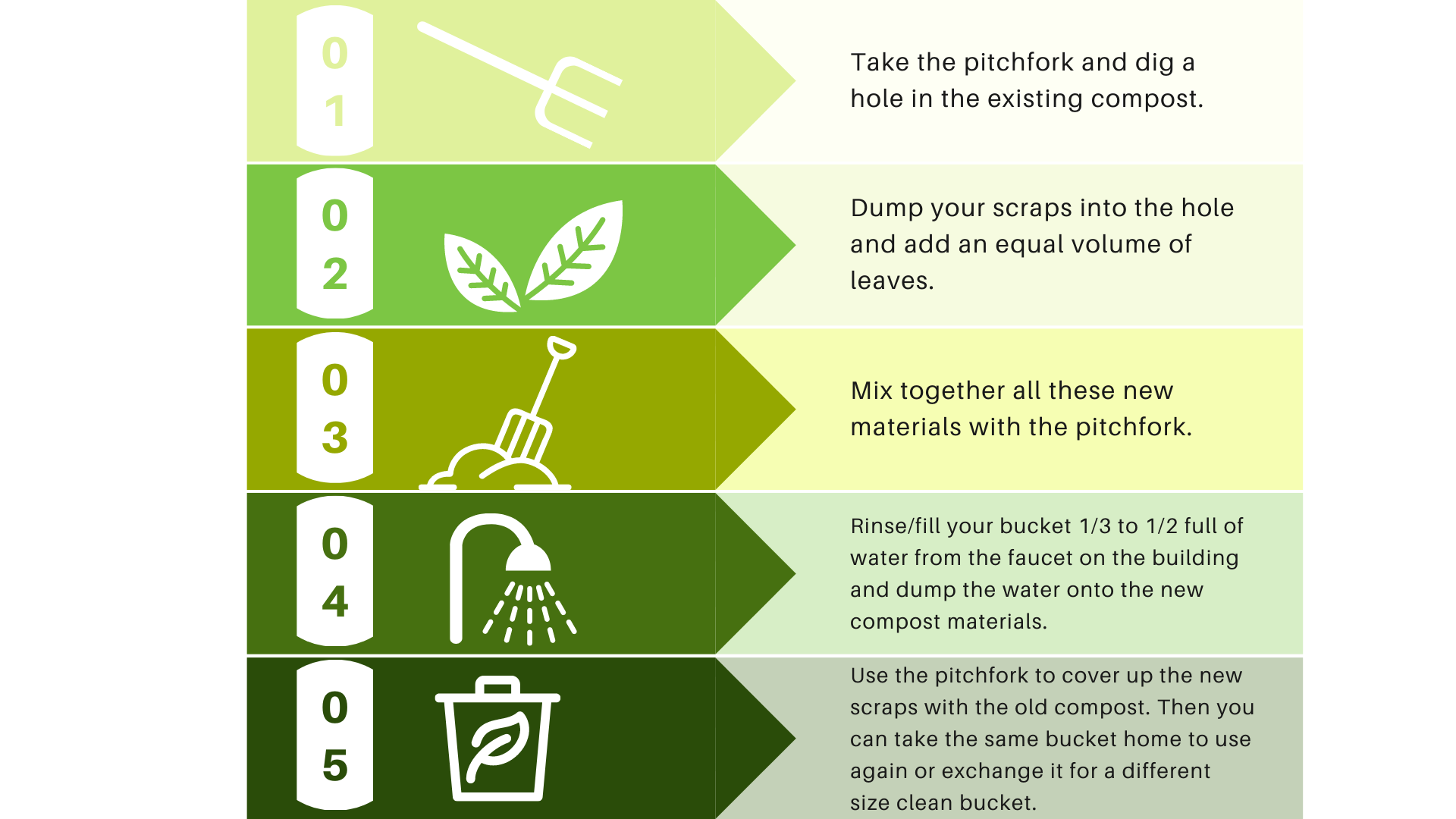 When everything has fully decomposed. the nutrient-rich compost is used in the community garden to improve the soil and grow tasty fruits and vegetables. Read all about our program in this Broomfield Enterprise article and check out our composting video!
If you are interested in participating, please fill out our Compost Club Interest Form!
Compost Club Testimonials
"Before the pandemic I composted at the drop-off location at work. But when the pandemic hit that all came to an end. My food scraps went to the trash and there wasn't any other option. Thankfully Sustainable Broomfield started the composting club soon after! They made it really easy to learn the rules of composting and how to drop off the waste. And the composting bins were really close to my house.
It's unfortunate there aren't more programs available for composting, but I'm so glad that Sustainable Broomfield has been leading the way to a better future! Since joining, I estimate that I've composted 22 pounds of food scraps over 90 days. If there were more programs and participation, think of all the waste that could be diverted back into the soil instead of the landfill!" – Dominick
"Thanks so much for all the composting info. I am really happy to have a way for my plant scraps to be re-used! – Tracie
Compost Colorado
Compost Colorado is a unique composting solution that collects your food waste, and also delivers local sustainable products. Shopping local and sustainable is another way to reduce greenhouse gas emissions and support your community! They are the fastest-growing composting company in Colorado and allow you to compost everything, including meat and dairy, fats and oils, as well as compostable plastics and other man-made items. You also get a free bag of compost around Mother's Day to use in your garden! Now available in Broomfield! contact them today Compost Colorado.
How to Compost Information
Backyard composting video (6 min)
How to make compost 
Backyard Composting Overview 
Backyard Composting Basics and Troubleshooting
Extra composting resources
Compostable Items List
Here are some great lists of compostable items separated into "greens" and "browns" Compostable Ingredients,  Compostable Items List
Compost your untreated grass clippings!
Email Shannon at Hugelradofarms@gmail.com
Homemade Compost Tea Setup
Modify your current backyard compost setup to produce and collect compost tea. For assistance or questions contact John Hoffman at Hoffmanart@yahoo.com. Homemade Compost Tea
Compost Workshops
You can also find a list of upcoming composting classes for Boulder County on their Compost Workshops page.
Sharewaste
Have you been looking to compost but don't have the time to do it yourself?  Sharewaste is a website that connects you to local drop-off locations that are looking for composting scraps.  www.sharewaste.com
Composting Classes
The City and County of Broomfield will be hosting a backyard composting class on Thursday, April 1, 2021, from 6-7:30 pm. All members of the public are welcome to attend this event being held in the City Council Chambers at the George Di Ciero City and County Building, 1 DesCombes Drive, Broomfield, CO 80020. Presenters include David Jackson from the Broomfield Environmental Services Department and Brianna Hallinan from Sustainable Broomfield.